LBX8000 RF Shielded Enclosure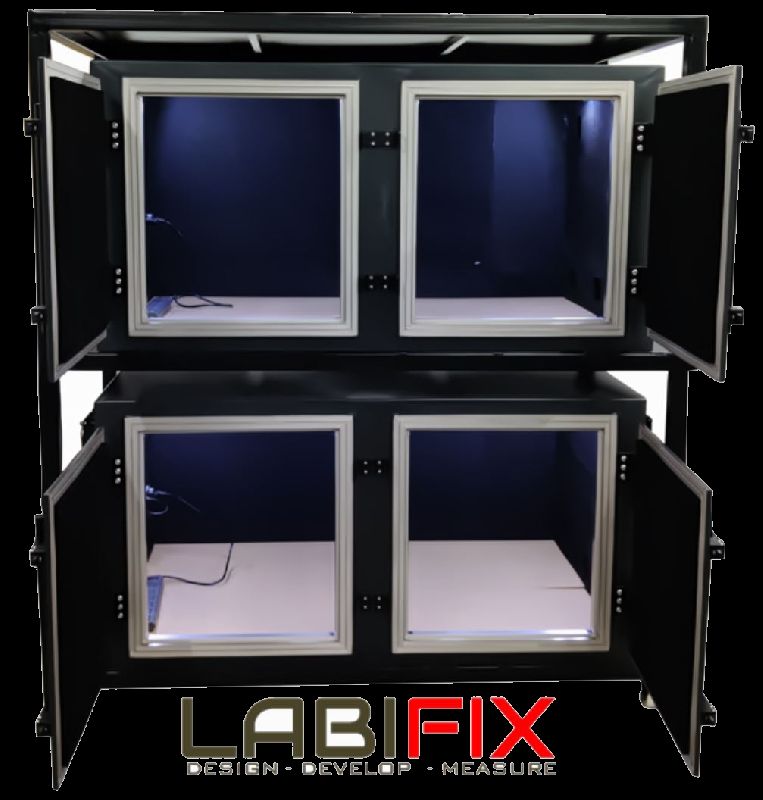 Business Type
Manufacturer, Exporter, Supplier
Country of Origin
India
Type
Rf Shielded Enclosure, RF Shielded Box
Feature
Easy To Install, Premium Quality
Click to view more
Product Details
Brand Name
LabiFix Innovations
Application
Wireless Testing Device
Certificate
CE Compliance & Quality Management System
Filtered Ethernet
10M, 100M, 1G
Powered by
AC / DC Power filter
RF Ports
SMA, N Type, BNC, TNC
Fiber optics
ST & Waveguide
Data
DB9, DB15, DB25, DB50, RJ11
Brand
LabiFix Innovations
Exterior :
30 H x 59 W x 37 D
Interior : 
28 H x 57 W x 35 D
Shielding Effectiveness
> 100dB @ 1 GHz > 95dB @ 3 GHz > 90dB @ 6 GHz
Operating Frequency Range
800MHz to 12GHz
Download

View
Packaging Details
Secure Corrugated Packaging Box and wooden pallet packing
LBX8000 is large RF Shielded Test Enclosure Spacious to house multiple devices like laptops and
Desktop computers with optional compartments for easy placement of Device under test
designed to meet a wide range of testing requirements Superior shielding effectiveness
against RF interferences featuring with Filtered AC & DC power lines,
Filtered Data lines & RF connectors.
I/O Options, dimensions, performance, etc. can be customized to meet your needs.
HIGHLIGHTS
High performance shielded Air Vents for adequate air flow
Higher RF Isolation
Completely Customizable Shielded Enclosure
High Performance RF Absorber lining
User Defined & Interchangeable I/O Connector options
Rugged Welded Construction
EMI filters on Data Ports
RF Gasket System
Optional pneumatic Door operation system
Bench top or Trolley provision
TECHNOLOGIES SUPPORT 
Supports Current and future wireless communication
technologies such as LTE, 5G
Wi-Fi 802.11 - all series
Wi-Max, GNSS, Bluetooth
EMI, RFI test
Device Testing, over the air measurements, Pre-compliance
R&D, Product verification, Performance reliability, Quality
assurance tests
Looking for "
LBX8000 RF Shielded Enclosure

" ?
1-10