LBX4500 RF Shielded Enclosure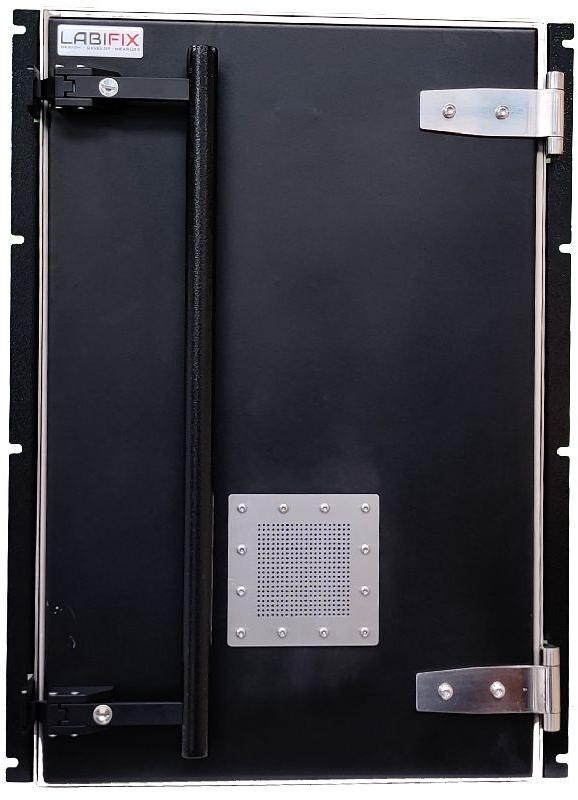 Price :
3.95 Lac - 4.10 Lac
/ 1-10
MOQ : 1 Piece
Business Type
Manufacturer, Exporter
Country of Origin
India
Type
Rf Shielded Enclosure
Material
RF Shielding Material
Click to view more
Product Details
Brand Name
LabiFix Innovations
Application
Wireless Device Testing
Certificate
ISO 9001:2015 Certified
Filtered Ethernet
10M, 100M, 1G
RF Ports
SMA, SMB, BNC, TNC, UHF
Fiber optics
ST and Waveguide
Data
DB9, DB15, DB25, DB50, RJ11
Exterior : 
26H x 17W x 22D
Interior :
24H x 15W x 20D
Shielding Effectiveness
> 95dB @ 1 GHz > 90dB @ 3 GHz > 85dB @ 6 GHz
Construction
Rugged Steel Welded Construction
Operating Frequency Range
800MHz to 12GHz
Ventilation
High performance shielded Air Vents for adequate air flow
Download

View
Packaging Details
We use export-quality inspection and fumigation wooden boxes with a strong construction, making sure that the shielding box will not be damaged in transport. The design is ideal for long distance transportation such as shipping on land or by sea, and can be shipped to any country around the world.
The LBX4500 RF Shielded Test Enclosure supports wireless communication technologies such as 3G, 4G, 5G LTE and Wi-Fi 802.11a/b/g/n/ac/n MIMO and rf electronics. Also, it can be completely customizable, allowing users to choose from a wide range of I/O connectors and enclosures, as well as an array of options for power and  data ports. The RF shielded enclosure is constructed with superior steel and High Grade RF Absorber materials helps dampen signals inside the RF chamber and can be customized for various requirements. The interior space inside the unit allows for larger devices to be tested while still providing high shielding effectiveness of >100dB.
HIGHLIGHTS
Higher RF Isolation
Completely Customizable Shielded Enclosure
High Performance RF Absorber lining
User Defined & Interchangeable I/O Connector options
Rugged Welded Construction
EMI filters on Data Ports
RF Fitted Gasket System
Powered by AC / DC Power Filter lines
Lightweight Rack Mountable or Tabletop Options
High performance shielded Air Vents for adequate air flow
TECHNOLOGIES SUPPORT 
Supports Current and future wireless communication
technologies such as 3G, 4G, 5G LTE
Wi-Fi 802.11 - all series
Wi-Max, GNSS, Bluetooth
EMI, RFI test
Devise Testing, over the air measurements, Pre-compliance
R&D, Product verification, Performance reliability, Quality
Looking for "
LBX4500 RF Shielded Enclosure

" ?
1-10